July 23rd, 2020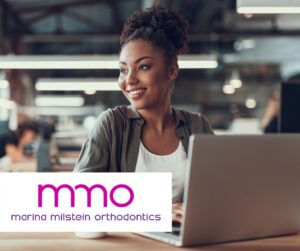 Have you ever "seen" your medical provider via an app or website? The virtual platform made it so that you could communicate your specific health problem, talk to a doctor/nurse, and perhaps even get a prescription filled in the same day.
You may have never realized that "teledentistry" offers something similar. Today, you can "visit" Marina Milstein Orthodontics in Granite Bay without ever stepping foot through our front door! It's an experience that we call the virtual orthodontic consultation or "online smile assessment."
What is a Virtual Visit?
If you're still in the early stages of considering braces, the first step is to talk with an orthodontist like Dr. Milstein to find out if you qualify for treatment (and which type.) Thanks to virtual orthodontic screenings, you're able to complete the process from anywhere!
An online/digital/virtual visit:
Fits your busy schedule
Is completely free
Works for all ages
Accommodates social distancing concerns
Gives you fast, straightforward answers
Securely protects your private information
How Does it Work?
At Marina Milstein Orthodontics, we provide an Online Smile Assessment through a safe and secure portal called SmileSnap. The platform allows you to take specific photographs — using your personal device — to capture various angles of your mouth and oral anatomy. From there, the pictures are uploaded and sent directly to Dr. Milstein.
After we've had a chance to review your images, we communicate with you through the app to make you aware of Dr. Milstein's recommendations.
No Commitment Necessary
Since orthodontic consultations are crucial for determining if you qualify for braces, an Online Smile Assessment saves you time. You can get straight forward answers about your unique smile needs without having to schedule an appointment or step foot in our office!
Visit our website today to request your own virtual or in-office orthodontic consultation.