May 19th, 2020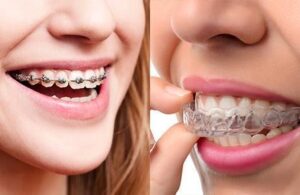 The choice between the two can seem overwhelming at first. You want what's best for yours or your child's teeth, but the two seem so similar and you're not sure which will work best. Ultimately, there is no simple answer. But no worries, Dr. Marina Milstein and our team are here to supply you with the facts. 
Braces are the traditional way of straightening teeth, involving glued on brackets held together by a wire. The brackets can either be metal or ceramic, per the patient's request. There is also the option to add a little personality to your braces by choosing which colors go on each bracket. 
Invisalign is a fairly modern approach to straightening one's smile. The process begins with a 3-D oral scan taken in the office, which gets sent to Invisalign Headquarters. After that Dr. Milstein works meticulously  on creating a perfect digital treatment plan. From there, a series of 3-D printed aligners are constructed and delivered to the patient. Many patients find that Invisalign is more comfortable and more subtle in appearance than braces. 
Both braces and Invisalign have the same goal of perfecting a smile. The main difference between the two is that braces are not removable during treatment, while Invisalign can be removed from the mouth per the patient's needs. There are pros and cons to both of these aspects. 
Since braces cannot be removed, treatment tends to follow Dr. Milstein's plan very precisely, ultimately finishing treatment in a timely manner. However, since the braces are permanently glued in the mouth during the course of treatment, maintaining oral hygiene requires a bit more effort from the patient. 
With Invisalign, the aligners can be removed and the patient has freedom to easily clean out tight spaces, along with cleaning the actual aligners themselves. This now presents the possibility of the aligners not being worn enough by the patient, resulting in extended treatment time. The aligners should only be removed to eat, drink anything besides water, brush, and floss. 
While both braces and Invisalign require a certain level of discipline and responsibility from the patient, the tasks vary among the two. With braces, the patient is expected to brush twice a day, floss using specialized braces floss, and follow any extra instruction given by the orthodontist, such as inserting rubber bands. With Invisalign, the patient is expected to also brush and floss, wear their aligners 20-22 hours per day, not lose their aligners, and always brush their teeth before inserting the aligners back in. 
For specialized patient cases, Dr. Milstein might recommend braces over Invisalign. This and much more can be discussed at a complimentary consultation appointment at MMO. Dr. Marina Milstein and our team wish you luck making this important decision, and are here to answer your questions every step of the way.